Three fourths of the Earth's surface is covered by water but we still know little about the creatures that live beneath our oceans. Scuba diving enables us to get closer to those animals and fish that share our planet.
The California coast has a host of sites close to shore where divers can experience up close the mysteries of the deep. In Northern California, the hub of diving activity is in Monterey Bay, about two hours south of San Francisco. A good beginner site is Breakwater beach near the Coast Guard pier in Monterey. It offers a gradual beach entry, a host of fish, corals, rock dwellers and an occasional otter. Not too far out lie the Metridium fields where the ocean floor is covered with beautiful white sea creatures that resemble a white pole wearing a feather hat.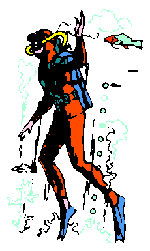 Northern California Rainbow Divers, a gay oriented scuba club based in San Francisco, offers beginner, advanced and rescue classes to interested parties. Check out their website for more information.
Whenever you dive, safety is the first consideration. The Divers Alert Network maintains a hotline for diving emergencies: (916) 684-8111. For further information, click on the logo above to link to their website.